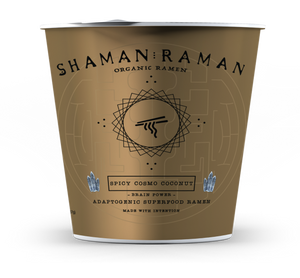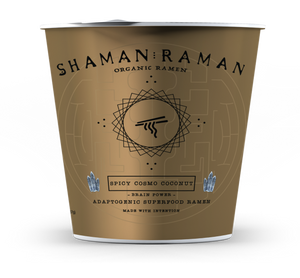 On Sale
SPICY COSMO COCONUT
BRAIN POWER
includes:
Lions Mane Adaptogenic Mushroom
Superfoods - Roots - Spices
Immune Supporting
Chloride Electrolytes
Low Calories & Sodium
84 Trace Minerals
100% Organic & Plant-Based
THE INGREDIENTS

Organic Rice Noodles (Organic Rice, Water), Organic Toasted Sesame Oil, Organic Freeze-Dried Chickpea Miso (Organic Rice, Koji Spores [Aspergillus oryzae], Organic Whole Chickpeas, Sea Salt, Water), Coconut, Himalayan Pink Salt, Non-Fortified Nutritional Yeast, Pumpkin Powder, Organic Roasted Garlic, Red Bell Pepper Powder, Lion's Mane Mushroom Extract, Butternut Squash Powder, Ginger, Turmeric Powder, Cayenne. *Contains Coconut.

THE NOODLE

We searched the planet to manifest the right texture, taste, & feel in a noodle.

Our noodles have two ingredients: organic rice & water.


THE FLAVOR

The perfect blend of a rich-tasting broth made with coconut to give it a nice creamy texture highlighted by a spicy sweetness! This combination was created with the intention to focus on brain power, packed with so many amazing ingredients including: Lion's Mane, Pink Himalayan Salt, Non-Fortified Nutritional Yeast, Pumpkin, Roasted Garlic, Red Bell Pepper, Butternut Squash, Ginger, Turmeric, & Cayenne! These carefully alchemized ingredients evoke a sense of the cosmos! As always, using nature's medicinal ingredients to work for the benefit of our being.