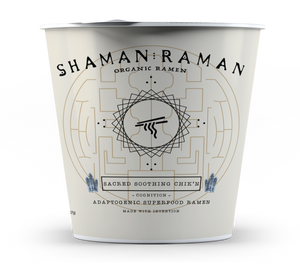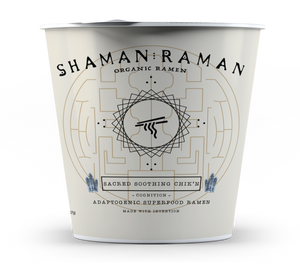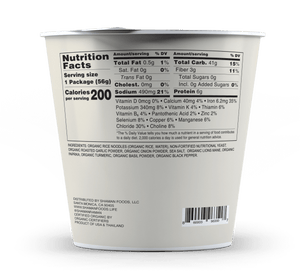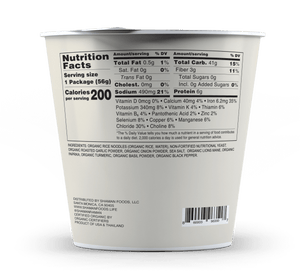 On Sale
SACRED SOOTHING CHIK'N
Our latest creation and 3rd flavor! The missing link to a perfect trifecta of majickal flavors within our offering! Sacred Soothing Chik'n takes everything we know and love about chicken soup and levels it up with our sacred signature vegan recipe with added medicinal benefits.

Focusing on "Cognition" - Lions Mane Adaptogenic Mushroom
Known as the smartest mushroom in the kingdom that supports:
Memory / Focus / Nerve Health / Creativity & Mood
An Excellent Source of Iron & Chloride Electrolytes.
A Good Source of Fiber.
No Saturated Fat* No Cholesterol.
Non-Fortified Nutritional Yeast.
100% USDA Organic
comforting | satisfying | nutritious | vegan | gluten free | soy  free
//
THE INGREDIENTS
Organic Rice Noodles (Organic Rice, Water), Non-Fortified Nutritional Yeast, Organic Roasted Garlic, Organic Onion, Sea Salt, Organic Lions Mane, Organic Paprika, Organic Turmeric, Organic Basil, Organic Black Pepper.
THE NOODLE
We searched the planet to manifest the right texture, taste, & feel in a noodle. Our noodles have two ingredients: organic rice & water.

THE FLAVOR
Our take on "Chicken Noodle Soup"! Created with the intention to focus on a healthy Adaptogenic Superfood "Chik'n" flavored instant ramen! This recipe took a long time to alchemize and reach this specific flavor profile. Priding ourselves on using nature's medicinal ingredients to work for the benefit of our being. Slurps Up!