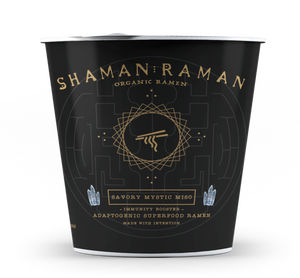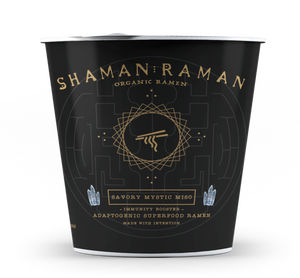 On Sale
SAVORY MYSTIC MISO
Immunity Booster

With 5 Adaptogens
Immune Boosting
Anti-Inflammatory
Vitamins A & C
Non-Fortified Nutritional Yeast
Soy Free Miso
100% Organic & Plant Based

THE INGREDIENTS

Organic Rice Noodles (Organic Rice, Water), Organic Toasted Sesame Oil, Organic Freeze-Dried Chickpea Miso (Organic Rice, Organic Koji Spores [Aspergillus Oryzae], Organic Whole Chickpeas, Sea Salt, Water), Organic Roasted Garlic, Himalayan Pink Salt, Non-Fortified Nutritional Yeast, Turkey Tail Mushroom, Shiitake Mushroom, Cordyceps Mushroom, Reishi Mushroom, Organic Turmeric Powder, Organic Moringa Powder, Organic Black Pepper.

THE NOODLE

We searched the planet to manifest the right texture, taste, & feel in a noodle. Our noodles have two ingredients: organic rice & water.

THE FLAVOR

Our original flavor! Created with the intention to focus on our staple instant cup of ramen that we can build on for new creations. Our miso is a soy-free chickpea miso base that resembles a traditional Japanese miso paste. A bold & creamy taste made with Non-Fortified Nutritional Yeast, Roasted Garlic, Kale, Turmeric, Black Pepper, Pink Himalayan Salt, 5 powerful Adaptogenic Mushrooms + Moringa—the Miracle Leaf—are carefully alchemized together to give it a depth of flavor without weighing you down. Priding ourselves on using nature's medicinal ingredients to work for the benefit of our being.